Hiru Haundiak 101km +5126 - Iñigo Torre Hernández
Supervaronis Iñigo Torre Hernández 14. oktobrī piedalījās Hiru Haundiak 101km +5126 sacensībās. Lasi un uzzini, kā viņam veicās!
Prologue
I arrive in Bilbao two weeks before the Hiru Haundiak. The goal in the days leading up to it is to maintain the good feelings I've achieved in the past few weeks and rest. During the last few training sessions, my heart rate is higher than usual due to the high temperatures, but I'm not worried. The good news is that the forecast for race day promises lower temperatures, but the bad news is that it will rain. I know what the terrain is like in Anboto and Aizkorri, and rain is unwelcome there. They are technical and rocky mountains with very worn and slippery stones, making them even more dangerous in the rain.
Finally, race day arrives. I have confidence in myself, I feel strong, and I'm ready to face this challenge. I have no doubts about myself; it has been a long journey to get here, and I know I have worked very hard to achieve it. The race starts at midnight, and Murgia, the town where it begins, is 45 minutes from my home, so I can maximize my rest time. I take an afternoon nap, and at 9:30 PM, I leave by car with my parents. I arrive, drop off the life bag they will give me at the 60 km mark in Landa, and return to the car. I lie down in the back seat and close my eyes.
It's 11:45 PM; it's time to go to the starting line. A light rain has started to fall. I say goodbye to my parents, they give me words of encouragement and tell me that no matter what happens, they are very proud of me. My father, who loves to joke, tells me a saying as I walk away: "Íñigo, downhill, even shit runs." :) I already know why he says it; it's because I've mentioned to him that when you've covered many kilometers, your legs don't want to move, and you can hardly even run downhill.

Emotions are already running high. The streets of Murgia are filled with strangers, family, and friends of the 1000 runners eagerly awaiting the start. Ahead of us are the three most famous peaks in the Basque mountains: Gorbea (Araba) 1481m, Anboto (Bizkaia) 1331m, and Aizkorri (Gipuzkoa) 1523m. 101 kilometers and a 24-hour limit to fulfill my dream.
---
Murgia 0km - Otxandio 28km (+1233m)
The race begins, and we leave the town behind to start the long ascent to Gorbea, 12.5km (+900m). My legs start moving, and I begin with a clear head, keeping my emotions in check. I maintain a comfortable pace, the temperature is pleasant, and it's not raining yet. I focus on controlling my pace, and although I monitor my heart rate, it's higher than I'd like. The first 6 km are moderately easy, and at km 7, the steeper part of Gorbea with a greater incline begins. An hour into the race, and my heart rate finally drops. I put on my windbreaker because the wind is starting to blow. In Ehun Milak, I made the mistake of putting it on too late and got cold, so this time, I'm being careful not to make the same mistake.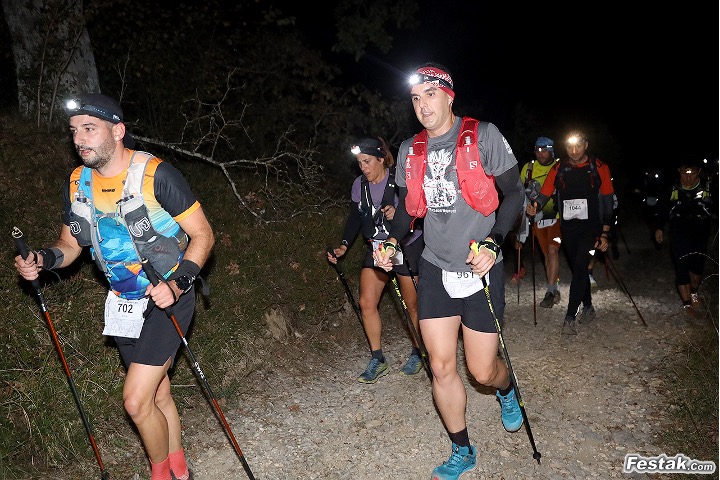 During the night, I plan to consume fewer carbohydrates (50g/h), combining one gel per hour with fluids. I take the first gels, a regular one with 25g of carbohydrates during the first hour, and after an hour, another one with caffeine (20 mg, 25g of carbohydrates). In a little over two hours, I climb the first of the three major mountains (position 484 out of 937 participants). At the start of the descent, I exercise extreme caution as I see several runners fall; the grass is wet, and the terrain is very slippery and steep. I use my trekking poles to slow down and avoid putting too much strain on my quadriceps during the initial descent. I come close to falling a couple of times, but luckily, I don't hit the ground.
After covering several kilometers on a forest track where I steadily advance positions, I reach the aid station at km 22.9 in Ubidea (423rd). I quickly refill my water bottles and head to the next uphill section. My head hurts because of the headlamp; I'm not used to wearing it, so I loosen it to relieve the pressure. I feel like I'm digesting food well, so I take a gel with 50g of carbohydrates and follow it with water to aid digestion. The kilometers pass, possibly the easiest part of the entire race, and we arrive at Otxandio, km 28 (I enter as 416th and exit as 393rd), the first solid food aid station. It's full of people cheering, and it gives me a morale boost. The plan was to reach this point in 4 hours; I'm 9 minutes behind schedule, but I don't panic. I eat cheese, banana, and oranges. I also start drinking cola, even though I don't usually do it during the night, but I feel like I need it. A short stop, and I continue with the race.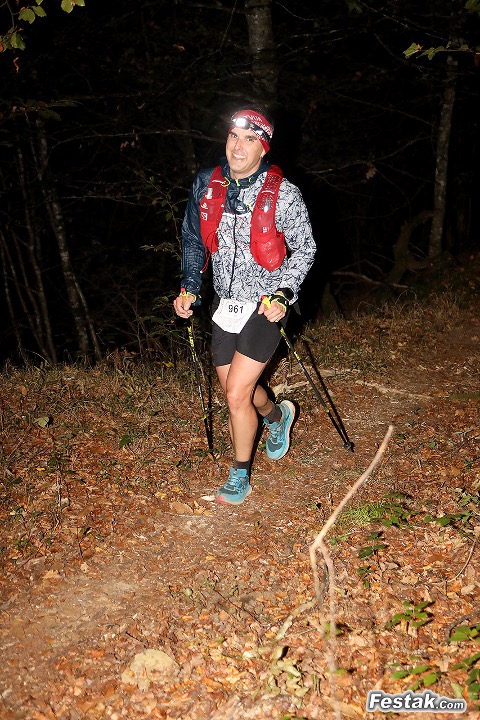 Otxandio 28km - Anboto 41.2km (+2183m)
I leave the aid station and begin the ascent towards Anboto. For the first time, I engage in a conversation. It's strange that I haven't spoken for so many hours, but I understand that it's because I've been intensely focused, although now I feel like exchanging a few words with a runner who's around 60 years old. He tells me it's his fourth time running the Hiru Haundiak, and he has always finished it. He had a rough night and vomited, but in contrast, I have very good feelings, and I stick to my plan. I feel fortunate that everything has been going well so far. We power hike together for several kilometers uphill until I see the opportunity to run. It's time to part ways; he encourages me, and I return the encouragement.

I reach the Urkiola aid station (372nd), where only liquids are available. The estimated passing time was 6 hours, but I arrive 33 minutes ahead. I realize there's a miscalculation somewhere, but I don't dwell on it and continue after replenishing fluids.
We leave behind the forest path where we could comfortably run and walk and head towards Anboto. Suddenly, I see lights at the top of the mountain, and I think, "Are we really going to climb up there? Don't we need ropes for this?" At night, it looked more like mountaineering than hiking. It's 1 km of ascent and 1 km of descent. I don't think I've ever climbed such a steep mountain before. Slippery rocks made even more treacherous by the rain, and there's also some fog. Finally, the climb is over, and we reach km 41.2 (373rd), where there's a checkpoint. Three volunteers are there with music, cheering on all the runners. I feel sorry for them; they must be cold up there. It's 6:13 am, according to the plan, I should have passed here at 7:30 am, confirming that I had miscalculated the timing considerably. After 45 minutes to ascend and descend Anboto, the second of the three mountains is conquered. It was excruciating; I felt like an old, clumsy goat in that terrain, for sure, those technical areas are a weak point for me.
Anboto 41.2km - Landa 60.4km (+2853m)
Now, I'm heading to Orixol, which, according to another runner, is a difficult mountain but less technical than Anboto. I'm chatting with him when we come across two runners, one of them lying on the ground covered with a thermal blanket. Their companion tells us he fell and may have injured his shoulder. We ask if they need help, and they inform us that medical assistance is on its way, so we should continue. It doesn't look good, especially because it's a very challenging area to access. After the race, I read a news article about how he was rescued by a helicopter.

We resume our journey, telling myself to stay fully concentrated; I don't want something similar to happen to me. We begin the ascent, and I lead a group of about 10 runners who joined us after we stopped to help. We enter the forest; it's still dark, and suddenly, I think I see a white cat in front of me. As I get closer, I realize it's a marking on a rock. You're crazy, Íñigo! I continue climbing Orixol at a steady pace, leave the group behind, and one runner remains with me.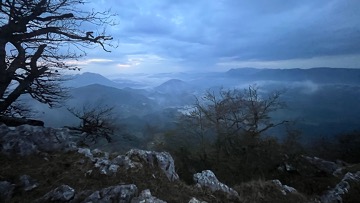 At 8 o'clock in the morning, we reach the summit at km 46.6 (338th), 30 minutes ahead of schedule. I was looking forward to this moment; the sun is finally starting to rise. I can't wait to take off my headlamp! I take a few seconds to take out my phone and capture the landscape. I consume a caffeine gel, and we start descending on an open trail; we can finally run again! It feels great to move my legs and feel the speed. After a long descent, we approach the next aid station with fluids, where there are many people cheering us on. I refill my bottles, have two cups of broth, grab some food from the table, and continue. Another uphill section begins towards Jarindo at km 55.4 (318th), marking the halfway point of the race. It's now daylight, one more descent, and I'll soon arrive at the Landa aid station.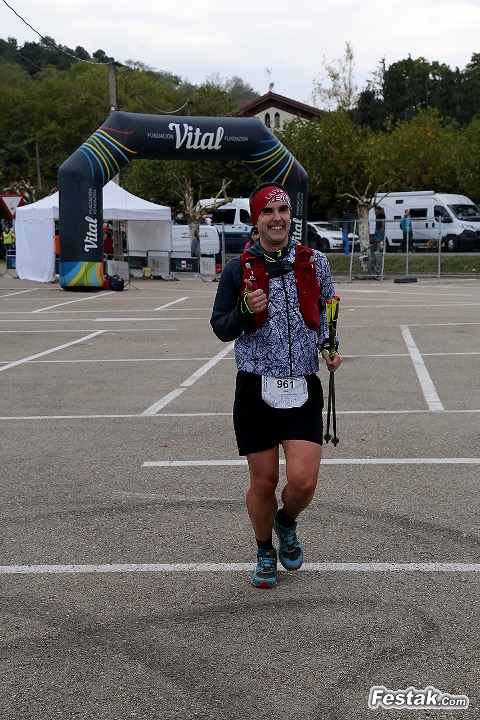 Landa 60.4km - Collado de San Juan 78.7km (+4000)
I start to hear the hustle and bustle of people; I'm at Landa, km 60 (entering as 317th and leaving as 299th), at 10:02 am, almost an hour ahead of the estimated time. I smile from ear to ear; I feel very good and am enjoying the race. I pick up my drop bag and head to an area where there aren't many people, so I can be at ease. You can already see the accumulated fatigue on the faces of the other runners, and I'm no exception. Many are sitting down, eating plates of pasta, but I don't feel like I can eat real food. I try to waste as little time as possible. I change my shirt, dry my sweat with a towel, and wash my face with water. I leave the windbreaker and take a cap; the sun is about to heat up, and I need to protect my head. I've consumed almost all the gels I started with, which is a good sign; I'm following the nutritional plan, and so far, it seems to be working. I grab more gels and fill one bottle with water and another with isotonic. I eat some banana and orange, and I drink isotonic. For the first time during a race, I brush my teeth; I need some freshness.
In 10 minutes, I'm leaving the aid station, facing a mountain marathon and 2273 meters of elevation gain. Now is when the real race begins. I start climbing, but something happens; suddenly, I feel dizzy and it seems like I'm losing energy. Runners easily pass me, and I struggle to move. I take a caffeine gel and drink isotonic, lower the intensity, and try to think about other things. After a few minutes, I start feeling better. The kilometers pass by, and I don't have many memories of this part of the race.
I reach Albiturri at km 66.9 (281st) and then head towards the next checkpoint, 11.8 km ahead. This section is tough, with long ascents, the sun beating down, and my strength starting to wane. My body craves more and more fluids, and it seems like I'm running low on them. In the distance, I see the famous wind turbines. I overhear one runner telling another that they'll be running beneath the windmills for 10 km, and there are a total of 78 windmills. I wish I hadn't heard that information...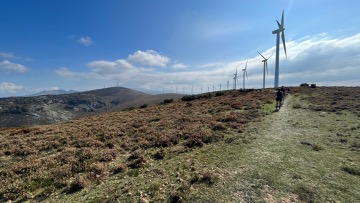 The ups and downs between the windmills begin, and mentally, I believe this is the toughest part of the entire race. The last windmill is visible in the distance, and it feels like I'll never reach it; this section feels never-ending, and to make matters worse, I have almost no water left. I know I'm in the midst of my first major crisis, and now is the time when I need to stay calm and demonstrate my mental strength. I gradually leave the windmills behind, and finally, I see the next aid station in the distance. I keep moving very slowly.

I enter the Collado de San Juan aid station at km 78.7 at 13:35 (274th), meeting the time goals. Physically, I'm in bad shape, nearly at my limit, dehydrated, and dizzy. A volunteer approaches me immediately to offer assistance. He asks what I need, and I ask him to please fill one bottle with water and another with Coca-Cola. I also request that he takes an empty bottle from my backpack. I can't make the same mistake of running out of fluids again, so from now on, I'll carry an extra water bottle from one aid station to the next. While eating a slice of orange and rehydrating, I hear a runner in the background asking the volunteers if they have beer, to which they respond affirmatively. I turn my head and see the runner casually enjoying a can of Estrella Galicia beer; astonished, I quickly leave the area.

Collado de San Juan 78.7km - Aizkorri 91.8km (+4918m)

I set my sights on the next goal, the last of the three major summits. I've been in the midst of a crisis for a while, feeling dizzy, and finally, I decide to sit down in the middle of an ascent. I don't know what to do; I can't think clearly, and the only thing that comes to mind is to take out my phone and call my coach. I've never done this before, but I think it's a good time. I truly want to call him to tell him that I can't go on, although deep down, I hope he'll say something that changes my mind. I take out my phone, and it's out of battery. As I put the phone back in my backpack, a fellow runner (el loco de la cerveza) passes by and encourages me, saying that it's all mental now and that I can do it. He invites me to keep up with him and follow his pace. I only have 20 kilometers left to achieve my dream; I can't give up now. I don't think twice and get back on my feet, trying to keep up with him, but he leaves me behind. "No problem," I tell myself. "Keep going at your own pace, Íñigo."

Suddenly, my mind goes blank, and by the time I realize it, the negative thoughts have disappeared, and I catch up to Alejandro, the person who had helped me keep up the fight. I thank him for it, and we start chatting while running together. He tells me that it's his third Hiru Haundiak and that he didn't finish the first two, but this time, he's determined to finish. "If we've come this far, we have to finish, my friend," he repeats several times. These are very tough moments, but my stubbornness keeps me going. He tries to motivate me by saying that we'll have a beer together at the next aid station, but the truth is, I'm not in the mood for it right now...

We reach the Lazkaolatza aid station at km 87.6 at 15:32 (281st), located at the base of Aizkorri. A quick stop; I fill my water bottles, and Alejandro gets his beer and quickly drinks it. He offers me a sip, I take a small sip, and then return it to him; it's not a good idea. Without wasting time, we head towards the last of the three giants. 4.2 km and a gain of 450 meters separate us from reaching the summit of Aizkorri. We begin the steep slope, and from the start, we have to work hard with our poles and use them to navigate through the rocks. Time passes, but the meters don't; it's agonizing. I've never in my life felt a climb this long. At one point, I almost lose my balance, and a fellow runner tells me that the last thing we want is to fall off the mountain. "Stay focused, Íñigo, we have to make it to the end!"
Aizkorri 91.8km - Araia 101.6km (+5088m)
Despite it feeling endless, after 1 hour and 15 minutes, we reach the summit of this iconic mountain. I don't know what it's like to conquer an 8000-meter peak, but my feeling is probably quite similar. We've finally climbed the last of the three giants, at km 91.8 (291st), and now we have just a little under 10 km left to fulfill our dream of crossing the finish line in Araia. We have 2 hours and 10 minutes to cover these kilometers and meet our goal of finishing in under 19 hours. To make it more interesting, the rain begins, the rocks are incredibly slippery, my quadriceps barely respond, and I am running out of power.

In survival mode, we descend as best we can. Running on such technical terrain is very challenging, but we try our best. Run, walk, run, walk, more rocks... It's frustrating! Alejandro is having some stomach problems, he vomits while running, perhaps the beer? So I decide to go ahead and run where possible. It's my turn to push! He follows me, he is very tough. After a few kilometers, my moments of weakness begin. My stomach has closed up, and I can only drink water. Again, I feel dizzy.

With 4 km to go, we reach the last aid station with liquid. I ask for a glass of Coca-Cola, but I can hardly drink it. I feel very unwell, as if my blood pressure is dropping. The volunteers see my condition and invite me to sit down. I decide to listen to them. I drink a bit and ask Alejandro to wet my cap with cold water. I put it on, and shortly after, I decide to get up and continue. I tell Alejandro that I'm in bad shape, but we have to keep going; we can still finish in under 19 hours. After a few minutes, I feel the boost from the caffeine or sugar, and I can run again. We're getting closer; Alejandro knows this area perfectly and tells me what to expect.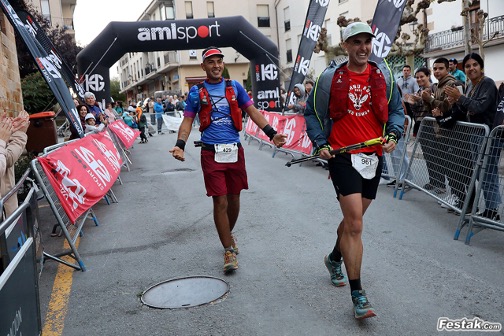 At one point, he says we're almost there, that the forest is ending, and the last downhill on asphalt to the village begins. The last kilometer, we're exhausted, but we grit our teeth and find the strength to run on the asphalt. Araia is filled with people applauding and congratulating us for our achievement. We smile, celebrate, and enjoy the moment. Alejandro and I feel like winners, because that's what we are. We've won our own battle. It's over; the finish line is in front of us. His son is waiting for him to enter together; we cross the finish line and embrace. "Thank you for helping me get here!"
Araia, km 101.6, 18:52:23, position 313th. The dream came true! Much suffering, too much... Was it really worth it? Definitely!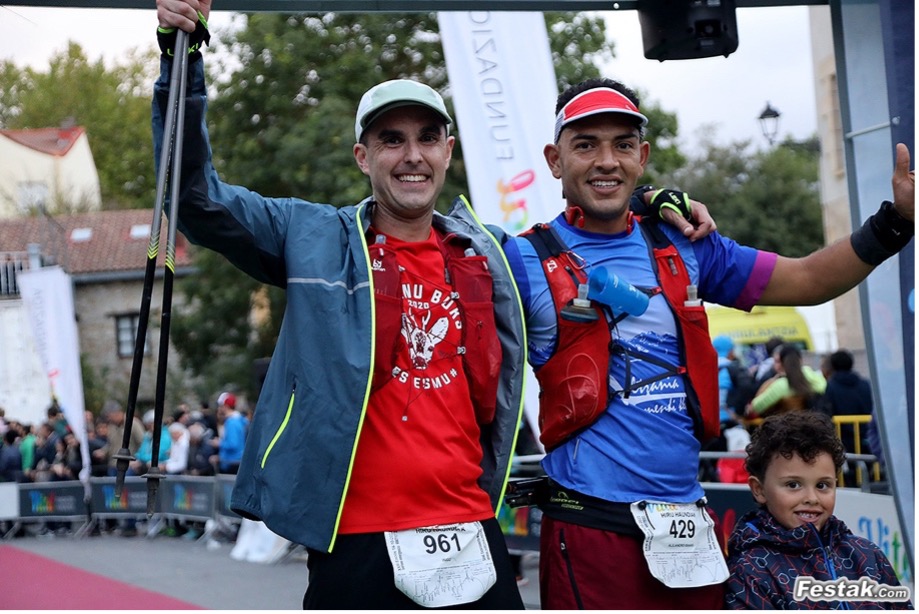 About the race
Hiru Haundiak is the renowned long-distance mountain race in the Basque Country, organized since 1987, making it one of the pioneering events at the national level. Covering a total distance of 101 kilometers, it takes participants over the most iconic peaks in the Basque Country: Gorbea (1481m), Anboto (1331m), and Aizkorri (1523m), through truly beautiful and natural environments.
The atmosphere is exceptional, with Basque enthusiasts cheering from start to finish. Over 500 volunteers take care of the runners, providing a variety of food and drinks at the aid stations. The trail markings are perfect, making it nearly impossible to get lost. The landscapes are picturesque, and the terrain is technical and highly demanding.

This year, pre-registrations were open from January 16 to January 30, with about 1,000 spots determined through a lottery (the preliminary draw included more than 3,000 applicants). Without a doubt, this is a race I recommend!
Nav komentāru
Komentēt